Are you searching for the best online grammar checker tools for WordPress?
While most browsers include built-in spellcheck, they do not check for grammar or readability.
This article lists the best free grammar checker tools you can use online with WordPress.
It is crucial to have good content in both the offline and online worlds. Providing offline content with immense grammatical & punctuation errors and extensive voice usage can be a disaster.
Similar to the offline world, quality content is what makes you visible to various search engines online. Your content will be ranked higher on Google if it has a higher quality.
It is not always easy to read through long pieces of content to check every detail. To overcome this problem, writers need a helping hand, like online checker tools.
5 Best Online Grammar Checker Tools for Easier Editing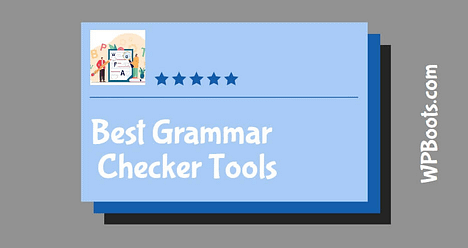 Grammarly
One of the best online grammar checker tools you can use is Grammarly. It checks for grammar, spelling, punctuation, and more.
It allows you to check 100,000 characters at once. Just copy and paste the content into Grammarly, and it automatically checks for things like correctness, clarity, engagement, and delivery.
In a text editor-like environment, you can easily format your text – bold, italic, heading tags, and so on.
You can use it directly on your WordPress site or in your emails using a free Chrome or Firefox extension, which will highlight the errors in red.
Features
User-friendly interface
Robust structure that checks your content well
Excellent writing assistant
Improvement suggestions based on the writing context
Advanced style suggestions, plagiarism checker, & more come with the paid versions
Browser extensions & third-party integration is available
Get a detailed report on your writing
Content styling features are available
Check Out: Best WordPress Form Builder Plugins
Ginger
Another best grammar checker tool and punctuation checker is Ginger. It checks spelling, sentence construction, grammar rules, intricate words, and proofreading.
There is a free version as well as a premium one, which costs $13.99 a month. If you pay yearly, you can receive a large discount.
This tool is available as a browser add-on and can also be incorporated into third-party platforms. The application is available for iOS/Android/Windows devices.
Features
You can write & proofread together
Give free grammar & spelling checks
Third-party integrations available
The paid version has unlimited improvement options along with 40+ language translations
You get a 7-day money-back guarantee on your purchase
ProWritingAid
ProWritingAid is a grammar and punctuation checker tool that allows you to fix all grammatical errors, optimize word choices, and create a detailed report showing the effectiveness of your writing.
You can connect this tool to Gmail, Google Docs, Microsoft Word, most browsers, and even WordPress.
You can improve your writing skills by using this online tool, which features a variety of suggestions, in-app applications, videos, quizzes, and articles.
You can choose from three plans: free, premium, and premium plus. For the free version, you are only allowed to check 500 words and only for grammar and spelling errors.
Premium subscriptions are available in three tiers: a $20.00 monthly subscription, a $79.00 yearly subscription, and a $399.00 lifelong subscription (one-time payment).
Features
Supports Gmail, Google Docs, Microsoft Word, WordPress, and most browsers
Check spelling & grammatical errors
Give writing report with in-depth analysis
Provide recommendations to improve your sentences
Offers a plagiarism checker too
Check Out: Free Author Bio Box Plugins
Linguix
Another free online grammar checker tool is an AI-based writing assistant tool called Linguix.
It checks your text for various grammar & style errors and provides recommendations based on your context.
You can deal with almost any style or grammar emergency with more than two thousand advanced AI-based corrections.
You can even receive writing guidelines from this tool that will help you improve your writing in the future.
You can also use pre-written content templates for your regular tasks.
You can add it as a free extension to Chrome, and if you like to upgrade, it will cost only $8 per month.
Features
Free & paid versions are available
AI Editor is impressive
Content templates & snippets are available for quick writing
Provide reports on your writing
Do Spelling, grammar, and style check software
The paraphrasing tool helps in enhancing your writing
Browser extension & third-party tools integration
Ideal for both individuals & organizations
Hemingway Editor
Hemingway Editor will be the last tool on our list of best online grammar checker tools. This online tool is developed to help people improve their writing skills. It helps in the creation of a simpler and clearer grammatical structure.
This tool color-codes your text, with each color referring to a different issue. If your sentence is outlined in red, it is hard to read.
You should rephrase the way of making it much more straightforward.
You can concentrate on writing more interesting and reader-friendly material using Hemingway Editor.
This program is accessible for both Windows and Mac OS and can be used even when you are not connected to the internet.
It shows you your readability level and pushes you to utilize active voice, simple word selections, and more, just like Grammarly.
Features
Color-coded analysis for a better understanding
The free version is available
You can get the desktop paid version for a one-time fee of $19.99
It is a writing editor too
It proofreads as you write and prompts alerts
No word limit
The grammar & punctuation checker is flawless
Final Words
That's all about the best online grammar checker tools you can use to edit easily.
If you want a tool to check grammar during content creation, Grammarly is the best pick.
If you want a quality online tool that you'll use every once in a while, Hemingway Editor might be better for that.