You must add the WordPress ping list to every blog so that search engines are notified of your blog. Your content will reach a larger audience this way. That's what every content marketer or blogger wants.
Thus, if you have a content site or blog, this ping service is vital for wider exposure.
How Does Ping Work in WordPress?
When you publish a blog post, WordPress pings it to all the ping services. You can do this even if you modify or edit a blog post.
In other words, the ping services you are about to include will notify search engines about your newly published or edited blog post.
Should I use WordPress Ping services?
Pingbacks are something WordPress users need to start using. By default, WordPress is configured to use the ping-o-Matic pingback service to index and increase traffic to the site.
Additionally, a few more ping services will be crucial and beneficial to the blog's success.
Isn't it nice, that WordPress will automatically ping about new blog posts? In addition, a few of the ping services below will notify the others as well.
In any case, they will all ping the search engines. Search engines like Google always need fresh content, so this helps index the blog post faster.
WordPress Ping List 2023: Make Blog Post Index Faster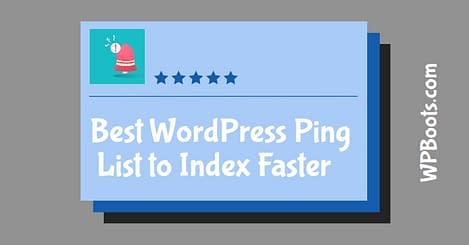 You can check out the WordPress ping list 2023, which we will update to make your blog more visible with the new ones.
To view the WordPress ping updated list, please bookmark this page.
You can paste the ping list below in Settings – Writing – Update services directly from your WordPress dashboard.
http://rpc.pingomatic.com/
http://blogsearch.google.com/ping/RPC2
http://bblog.com/ping.php
http://bitacoras.net/ping
http://blog.goo.ne.jp/XMLRPC
http://blogdb.jp/xmlrpc
http://blogmatcher.com/u.php
http://bulkfeeds.net/rpc
http://coreblog.org/ping/
http://mod-pubsub.org/kn_apps/blogchatt
http://www.lasermemory.com/lsrpc/
http://ping.blo.gs/
http://ping.bloggers.jp/rpc/
http://ping.feedburner.com
http://ping.rootblog.com/rpc.php
http://pingoat.com/goat/RPC2
http://rpc.blogbuzzmachine.com/RPC2
http://rpc.blogrolling.com/pinger/
http://rpc.pingomatic.com
http://rpc.weblogs.com/RPC2
http://topicexchange.com/RPC2
http://trackback.bakeinu.jp/bakeping.php
http://www.bitacoles.net/ping.php
http://www.blogoole.com/ping/
http://www.blogpeople.net/servlet/weblogUpdates
http://www.blogshares.com/rpc.php
http://www.blogsnow.com/ping
http://www.blogstreet.com/xrbin/xmlrpc.cgi
http://www.mod-pubsub.org/kn_apps/blogchatter/ping.php
http://www.newsisfree.com/RPCCloud
http://www.newsisfree.com/xmlrpctest.php
http://www.snipsnap.org/RPC2
http://www.weblogues.com/RPC/
http://xmlrpc.blogg.de
How to add Ping Services to WordPress?
WordPress makes it easy to add the ping list. The WordPress dashboard provides everything you need.
The following are the steps to add the ping list in WordPress:
Login to the WordPress Admin Panel
Click on Settings -> Writing
Please scroll down until you find updated services, then copy the WordPress ping services list into the provided box
Save your changes and you're done.
Conclusion
That's all about the best WordPress ping list.
There are several ways to make WordPress SEO even better and drive traffic.
It is important to remember that adding ping services to your WordPress blog is just the beginning.
Are there any specific ping lists you'd like added to this post?