Are you searching for Cloudways Black Friday Discount?
Then you have reached the right place.
Check out this post and learn about the best offers from Cloudways this Black Friday and Cyber Monday.
Cloudways Black Friday Discount 2023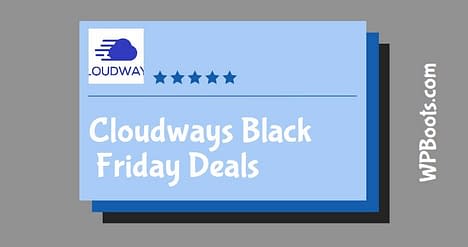 About Cloudways
Cloudways provides a problem-free hosting solution. Their system offers an uninterrupted, adaptable, and economical means of hosting your websites and applications on cloud servers.
Cloudways grants you various cloud hosting options such as Amazon Web Services (AWS), Google Cloud Platform (GCP), DigitalOcean, Vultr, and Linode.
You can enjoy the ease of one-click setup for well-known applications like WordPress, Magento, and Joomla.
You can relax knowing that automatic backups and strong security features are integrated into their system. Plus, with their 24/7 support, aid is always readily available.
Cloudways Black Friday Discount Summary
| Offer Date | Discount | Coupon | Deal Link |
| --- | --- | --- | --- |
| November 16, 2023, to November 30, 2023 | 40% OFF for 4 months | BFCM4030 | Get The Deal |
How To Grab Cloudways Black Friday Deals?
Follow the steps below to grab Cloudways Cyber Monday Deals and Black Friday Offers:
Step 1. Click on this special link to get to the deals page.
Step 2: Click on the "Start Free" option that you see in the top-right corner of the website. You will be redirected to the signup page.
Step 3: Click on the "Got a Promo Code" link and enter either enter the Cloudways Black Friday Coupon code BFCM4030.
Step 4: Verify your number and activate the account. Enter your card details and process the payment.
That's all. You have grabbed the Cloudways Black Friday Offers successfully.
Best Features of Cloudways
Let us see some of the best features of Cloudways below:
Clean & User-Friendly Dashboard
Managing a website from the backend is the biggest problem for every business owner and wasting time getting used to the control panel is very frustrating.
However, Cloudways provides a very simple and clear control panel with the necessary settings so you can quickly start your business without any problems.
Configuring servers, installing applications, enabling SSL, creating staging areas, backup/restoring, etc. can all be done with just a few clicks.
Apart from that, you can efficiently complete many other website-related tasks in less time and focus on growing your business without worry.
Access to Multiple Cloud Platforms
Cloudways is a one-stop solution to seamlessly launch your website on various popular cloud servers such as DigitalOcean, Vultr, Linode, Amazon AWS, and Google Cloud.
There is no need to go to the official website of the cloud platform and subscribe to the service separately.
Simply sign up with Cloudways, choose your cloud platform and server location, configure your server, and install your application. You can start your project in just a few minutes.
Better Uptime & Auto Scalable
If your website goes down frequently (site down), you may lose customers because visitors cannot see your website data in such situations.
This clearly indicates that the site server is down. However, this does not happen when using cloud hosting managed by Cloudways.
Websites are launched on multiple cloud servers. This means that if one goes down, another cloud server will be saved.
Cloudways also offers an auto-scaling feature to prevent website crashes due to sudden changes in website traffic.
Security
Cloudways practices are proactive to ensure that every server receives maximum security.
Servers hosted are protected with the help of OS-level firewalls which efficiently filter out malicious traffic.
Host Unlimited Sites
You can host unlimited sites on Cloudways. Unlike WP Engine, there are no restrictions on the number of sites to host.
Managed Cloud Servers
All the servers offered are completely managed. Also, they come with the best configuration.
Easy To Use Control Panel
It is very easy to use the Cloudways control panel. Any newbie can perform tasks like domain mapping, installing apps, etc.
One-Click Installation
You can install WordPress and other apps easily with one click installation.
Free SSL
You can install Let's Encrypt SSL for free. If you do not want Let's Encrypt SSL, you can install your SSL easily.
Check out this post for the complete features.
Pros and Cons of Cloudways
Let us see the pros and cons of using Cloudways.
Pros
Easy to use
Multiple cloud infrastructure options
Scalability
High performance
Security
Cons
No Email Hosting
No Domain Registration
FAQs related to Cloudways Black Friday Sales
Cloudways is a managed cloud hosting platform that allows you to host your site on DigitalOcean, Linode, Vultr, Amazon Web Services, or Google Cloud Platform.
How much does Cloudways cost?
Cloudways plan starts from 10$ per month and on this plan, you will get 25GB of storage, you can increase the plan size according to your need and budget.
Does Cloudways offer a free trial?
Yes, Cloudways offers a 3-day free trial, and these days you can test their hosting. If you like to continue it so you can easily upgrade it.
Does Cloudways provide free SSL?
Yes. Cloudways provides free SSL on all plans.
Does Cloudways provide free migration services?
Yes, it offers free migration services. You can make use of its Cloudways WP migrator Plugin.
Does Cloudways offer CDN?
Yes. Cloudways offers its own CDN. It is very simple and easy to integrate. You can easily get higher conversions by using its CDN.
How does Cloudways backup the data?
Cloudways provides automated backups. You can set up the automatic backup frequency on an hourly basis. You can restore the backups at any time you want.
Cloudways Black Friday Discount Conclusion
That's all about Cloudways Black Friday Sales.
Cloudways provides an easy-to-use, flexible, and scalable cloud hosting platform for businesses and developers of all sizes, with a wide range of features and integrations to meet the needs of different types of users.
Don't think much. Just grab the Cloudways Black Friday Deal now.
Check out other Black Friday Hosting Deals:
Cloudways Black Friday Discount: Save 40%
Summary
Cloudways is one of the best-managed Cloud Hosting providers. And if you are looking for great customer support and best servers to suit your needs, then Cloudways is your choice.