Worried about your blog traffic? Wondering how to increase blog traffic?
Then you are in the right place.
Check out the post and learn some of the easy tricks to increase blog traffic.
Anyone who has ever tried to gain readers for a blog knows how frustrating it can be. We all wish for readers to just magically appear. However, building an audience requires some work.
You may feel frustrated when it comes to blogging.
But once you've seen the benefits, you'll realize that your blog can have a tremendous impact on your business by driving traffic to your website, attracting new clients through social media, and making an impression on prospects and clients.
How to Increase Blog Traffic: 11 Easy Ways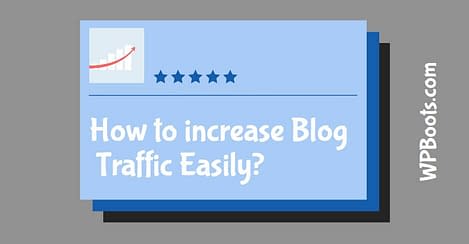 Let us see the ways to increase blog traffic easily.
Write Irresistible Headlines
Your headline is one of the most important parts of your content. Even the most comprehensive blog post will go unread without a compelling headline. Learn how to write catchy headlines.
It is not uncommon for the writers at BuzzFeed and Upworthy to draft up to twenty headlines before they settle on the one that will drive the most traffic, so consider your headline carefully before you publish.
Pay Attention to On-Page SEO
Do you think SEO is dead?
Well, think again. The practice of optimizing your content for search engines remains valuable and worthwhile.
Do you use image alt text effectively?
Do you create internal links within your content?
How about meta descriptions?
SEO optimization for your on-page can boost your organic traffic without taking a long time.
Check out: WordPress SEO Guide for Beginners
Get Social
Producing great content isn't enough – you need to also promote it.
Using social media channels to promote your content is one of the best ways to increase traffic to your website. Use Twitter to share neat, short (and tempting) links.
Target Long-Tail Keywords
Do you know how to rank for popular and high-intention keywords? It's time to start targeting long-tail keywords as well.
A majority of web searches are long-tail, so you will be missing out if you don't target them in paid search or SEO efforts.
Start Guest Blogging
Contrary to what you may have heard, guest blogging is not dead.
By writing a guest post for a reputable site, you can increase blog traffic to your website and build your brand.
The guest blogging standards have changed radically during the past months, and spammy tactics may result in penalties. Please proceed with caution.
Invite Others to Guest Blog on Your Site
Guest blogs are two-way streets. You should also invite people in your niche to blog on your own site in addition to posting content on other blogs.
Their guest article is likely to be shared and linked to, which could bring new readers to your site.
Be sure to only post original, high-quality content without spammy links, as Google is cracking down on low-quality guest blogging.
Post Content to LinkedIn
LinkedIn has become more than a job search tool.
Linkedin is now a valuable platform for publishing content on its own, so you should regularly post content on LinkedIn.
By doing so, you can increase traffic to your site as well as your profile within your industry, especially if you have a moderate to large following.
Make Sure Your Site is Fast
When was the last time you waited thirty seconds for a page to load?
Never happened to me.
Your bounce rate will skyrocket if your site takes forever to load.
Ensure your pages are technically optimized, including the image size, page structure, and plugin functionality. Websites that load faster are more effective.
Check Out: Tips to Improve WordPress Speed
Don't Neglect Email Marketing
Many businesses focus on content marketing and forget to use more traditional methods to attract new customers.
An email blast can boost traffic significantly even if it's moderately successful. Just make sure you don't bombard your clients with emails every time you have an update.
Remember that word-of-mouth marketing has a powerful impact, especially when it comes from people who already enjoy your products or services.
A friendly email about a new service or product can also boost your traffic.
Check Out: Best Opt-in Form Plugins
Research the Competition
Software like BuzzSumo can help you gain an edge over your competitors if you haven't used it.
Social media performance reports show what topics resonate with readers and, more importantly, what topics are making the rounds on social media.
To drive traffic to your website, find out what people are reading (and talking about).
Advertise
You can attract visitors, build your brand and gain exposure through paid search, social media marketing, and display advertising.
You should tailor your paid strategies to suit your goals – are you just looking for more traffic or are you hoping to increase conversions as well?
Think carefully about your goals before pulling out your credit card for each paid channel.
Final Words
That's all about how to increase website traffic for free.
All these methods are simple and easy to implement. Try them on your website and increase traffic easily.