Are you searching for WordPress Internal Linking Plugins?
Then you are in the right place. Check out this post for the list of best WordPress Internal Linking Plugins and build your internal links effectively.
The building of internal links helps bloggers and content marketers increase readership. For better search engine rankings, you should have a perfect internal structure on your site.
By linking to other blog posts within your own, you can easily accomplish this. Although you are here to find the best internal linking plugin for your WordPress website, you might first like to know more about your internal linking strategy.
What is Internal Linking?
The content and structure of a website have a significant impact on its search engine rankings. Every professional SEO strategy incorporates internal linking, which is why it is crucial to search engine ranking.
By placing links on the top level of the pages on your site, you can create internal links between them.
Search engines and users both benefit from links to your site's content. By linking, users can find the content that they're looking for on your site.
Links may also be used by search engines to navigate your site. If a page does not contain links, the reader cannot find it or consume it.
How to Make Internal Links?
There are several types of internal links. In addition to links on your menu and your cornerstone content, you can also add links within your content.
This type of link is known as a contextual link. The user will be able to navigate your website more easily, and the search engines will determine which content on your site is relevant, as well as its value.
The number of links on a page determines the relevance and importance of the page in search engines. SEO efforts are more effective when your internal links are strong.
Benefits of Internal Linking in SEO Strategy
If you need to get a link built on a website or blog, it would be best if they linked to your website first.
The following are the advantages of building internal links:
Anchor texts improve user experience by hyperlinking to internal pages
Link juice is spread by internal linking
Keep readers interested by offering a diverse range of topics. Internal linking increases page views.
Building internal links increase the time spent on the site
Furthermore, internal linking improves crawling and indexing.
Best WordPress Internal Linking Plugins to Boost Onpage SEO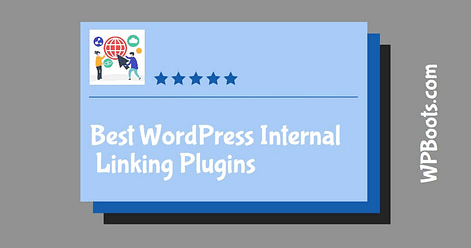 With these internal linking plugins for WordPress, you'll see a ranking boost for your sites.
In the past, we have tried several plugins for our site, and Link Whisper has proved to be the best so far. Hence all the sites are equipped with it now.
Link Whisper
Link Whisper is one of the top internal linking WordPress plugins in my experience. WordPress internal linking is easy with Link Whisper.
Using this WordPress plugin, you will be able to create substantial hyperlinks on your WordPress website quickly and easily. This is important in SEO because it passes the link juice.
Best Features
Following are some of the best features of this plugin:
It provides many internal links so that you don't have to do the work manually.
Using Link Whisper for WordPress, you can optimize your website for better performance.
You are offered automatic link suggestions when you write a new paragraph.
Link Whisper is powered by an artificial intelligence system.
There are dozens of links you can use.
Check Out: Best Free Caching Plugins for WordPress
Rank Math SEO Plugin
Rank Math SEO has become one of the most popular SEO plugins for WordPress in its category. It is now one of the best Yoast SEO alternatives.
The link suggestions feature is one of the many features that this great SEO plugin offers.
This plugin allows you to easily create internal links between posts while creating posts for your website. This makes linking to posts on your site much easier.
The editor provides link suggestions under the heading "Link Suggestions". You can copy or paste the link directly from there.
This plugin has some useful features, including internal linking, making it a perfect SEO tool.
In terms of ease of installation and ease of use, this plugin is perfect if you are looking for a plugin that covers all aspects of your SEO strategy.
It has both free and premium versions.
Best Features
Some of its best features are:
An integrated redirection manager is provided
An SEO analysis tool is available
Ranking tracking is available for keywords
It is possible to automate the SEO of images
Several rich snippets are included
Interlinks Manager
Interlinks Manager is an SEO WordPress plugin that gives you the ability to monitor and optimize your internal links.
This plugin first generates the internal links data with powerful PHP regular expressions applied to your content and then analyzes these data to provide you with valuable information.
Specifically, the plugin adds to WordPress the following features:
Internal links analysis
Link juice analysis
An algorithm that detects the internal links optimization status
Internal Link Juicer
This plugin automatically generates internal links in WordPress. This open-source WordPress plugin offers many useful features for controlling internal linking.
By linking your pages automatically, you don't have to create a link for every new page added to your site. Once the keywords are configured, the link generation will however be initiated automatically.
An extensive WordPress plugin with a lot of customization options. It is also possible to manually optimize, but only in the pro version. A free version, on the other hand, has most of the features you might need.
Best Features
Following are some of the best features of this plugin:
Link building requires minimal effort to ensure the maximum quantity.
Once the keywords are set up, links will be generated automatically.
You can optimize your search engine ranking with it.
Links can be displayed entirely as you wish.
Internal Links Manager
The best interlinking plugin for WordPress was released as a free open-source project.
A level of management was built into it, allowing internal linking to be easily managed. With this plugin, you can easily optimize your WordPress site for search engine optimization.
Best Features
Following are some of the best features of this plugin:
SEO revolves around Internal Link Generators.
You will receive more contextual credits for your website if you use it.
Even a noob can configure the Internal Links easily.
A counter calculates how often a keyword appears.
Using a keyword limit will allow you to control how many times a keyword can be used.
Final Words
That's all about the best WordPress internal linking plugins.
All of the above plugins work well. In the above list, you can find both free and paid internal linking plugins.
At our blogs, we have used them all and currently use LinkWhisper as our primary tool. It provides the best suggestion for links and lets me change the anchor text directly from the WordPress editor.