WordPress is the most widely used CMS. However, most users encounter difficulties when optimizing WordPress for search engines. Considering that most of the users are first-timers, they don't have much experience with WordPress, they aren't WordPress experts, they do not possess technical knowledge, or they lack SEO knowledge.
This guide will teach you how to optimize WordPress for search engines. This WordPress SEO guide covers everything a blogger needs to know to optimize his or her blog for search engines: from the basics to technical details.
In this guide, we will start with the basics and will cover the things that an expert SEO advises.
We have divided the whole WordPress SEO optimization process into three categories, they are:
Basic WordPress SEO Optimization
Technical things related to SEO
Optimizing your content for search engines.
WordPress SEO Guide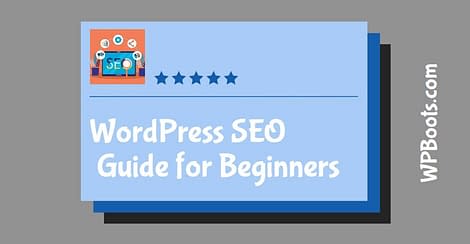 The first part of this WordPress SEO optimization guide will discuss the basics of SEO in WordPress and how to configure the basic aspects of SEO in our installation.
Basic WordPress SEO Optimization
The following are the basic WordPress SEO Optimization factors:
Setting Title and Description
The first step is to set the title and description of your WordPress blog, also known as the meta description.
I am sure you have set the title correctly while installing WordPress, however, most people make the mistake of not changing the description.
It remains "Just another WordPress blog" by default.
Therefore, please check it carefully, as you can change the title and description in Settings > General.
The blog title and the blog description should go here.
Permalinks
WordPress provides different choices for permalinks, from which you can pick the one you prefer.
A permalink is the URL of a page on your WordPress blog. Make sure you set up your permalinks carefully.
Delete Default Content
Your WordPress blog will contain two things by default, a blog post, and a page. Both are useless and should be deleted.
There is no value in them for search engines because they contain few words, and millions of other WordPress users are publishing similar articles on their blogs.
Therefore, you should get rid of these pages from your blog to have valuable content.
Install a WordPress SEO plugin
Installing a WordPress SEO plugin should be the first thing you do on your WordPress blog.
With this plugin, your WordPress SEO optimization process will be easy, simple, and time-saving.
If you haven't yet installed a WordPress SEO plugin, I encourage you to do so now.
There are many SEO plugins available for free as well as for paid, you can use any of them.
I would recommend RankMath as it is the best SEO plugin available in the market.
Technical Things Related to SEO in WordPress
There's a common misconception that users can't learn and understand search engine optimization since it's like nuclear science. However, that's simply not true.
You do not have to write any code to optimize your WordPress blog.
You may need to understand a few basic technical things, and that is exactly what we will be covering in this section.
Sign Up For Google Webmaster and Bing Webmaster
How will the search engines know that you have a WordPress blog or a website? In some cases, they might discover your blog, but in most cases, they won't.
It is therefore important that you inform the major search engines that you exist and that you have something they can use.
Sign up for Google Webmaster and Bing Webmaster tools and submit your WordPress blog to them.
If you are submitting your WordPress blog, you will need to verify that you own the blog or website.
The easiest way to verify your blog is to add a meta tag to your website. You can add meta tags with any SEO plugin.
WWW or Non-WWW
Websites can be accessed by two URLs. A site without a www and one with a www. It's possible to access wpboots with wpboots.com and with www.wpboots.com. However, non-www will always lead to the www version.
Therefore, you should choose one of the URLs as your primary URL and redirect the other to it, as search engines may consider the content duplicate.
You can specify which URL is to be used for indexing in your webmaster tools to tell the search engines which URL to use.
It does not matter which version you choose (www or non-www), neither one will be given preference, and both will be treated equally.
Submit Sitemap
Search engines don't have to crawl your content and know that you have some content that may be useful to their users.
Therefore, you should tell search engines that you have content on your WordPress blog and where it is located. Search engine crawlers use a sitemap to find content on your blog.
Using an SEO plugin, you can create a sitemap for your blog.
Speed Up a WordPress Blog
Search engines rank pages based on the speed of a website, particularly a web page.
A page that takes too long to load is likely to be ranked lower in search results as users will close the page if it takes too long to load.
Many factors influence the speed of a WordPress blog. Using a cache plugin will greatly improve the speed of your WordPress website.
Focus on User Experience
Modern search engines are really smart and they know what the user wants and if a web page does have it or not. Therefore, the content and your website must provide what the user wants properly.
When we talk about User experience, we primarily talk about the presentation and design of your WordPress blog.
It includes various things like navigation on your blog, ease of using your website, ease of understanding, and finding the content on the page or the website. When we talk about design.
We do not say that you should or should not have fancy designs or colors. Whatever design or color you are using, remember that the user should like it.
A few examples of bad user experience can be your web page is not responsive or some pop-ups irritating the users and messing up with the content.
Therefore, you should be careful with these things.
Choose The Right WordPress Theme
The right WordPress theme is really important since a WordPress theme is the heart of your WordPress blog.
The WordPress theme plays an important role in search engine optimization and ranking. Our detailed post on this topic can be found here.
Noindex Archive, Category, Pagination, or Tag Pages
By noindexing a page, you are telling search engines that you do not want them to index the page in their search results.
You may wonder why these pages should not be included in search engines.
Our goal should not be to index all of the pages of your WordPress blog in search engines.
Every page on your blog isn't relevant to search engine users. The archives and category pages on your website are useful for visitors, but they're not relevant to search engines.
As they add no value to search results, these pages will never appear in search results.
Additionally, these pages create duplication of content in many cases ( we will see this in the next point). By using an SEO plugin, you can noindex these pages.
Adding a Post to Many Categories
Previously, we stated that the category and other pages cause duplication of data since there may be posts that were in two categories and tags, and now are showing up twice, with the same excerpt.
There is nothing wrong with adding a post to more than one category or tag, but you should be careful as this can mess up content on your blog if not handled correctly.
Noindex Certain Pages
Some pages on every website are not relevant for search engine results or do not add very much value, these pages should be deindexed, as we said earlier, our goal is to only index valuable pages.
Therefore, noindex pages such as privacy policies.
404 Error pages
Your search engine ranking will be adversely affected if your WordPress blog has too many 404 error pages regularly discovered by web search engines.
As a result, be careful with 404 pages on your website.
Breadcrumbs
Breadcrumbs serve as secondary navigation on your website. By using breadcrumbs on your blog, you help users and search engines identify where they are now and help with navigation.
Not only this, but it also informs search engines of the logical structure of your website, which will make it easier to index.
Not only that but sometimes search engines use these breadcrumbs instead of your URL when showing search results to users.
If your WordPress theme doesn't support breadcrumbs, you can add them using the SEO plugin.
SSL/HTTPS
You shouldn't be concerned about it until you have a website that deals with money or confidential information, but it plays a small role in search ranking anyway.
Ads on website
Search engines understand that ads are important for webmasters and help them in monetizing their websites, but at the same time, the primary objective should be to help the user.
Therefore, you should be cautious when placing ads on your website, even though Google had an update about it in the past.
Don't place too many ads above the fold (above the fold is the top area of your blog, which is the area that is visible to users when they land on the page).
It is recommended to only place one ad in this area.
Robots.txt
Robots.txt is an important file of your website, but it must be handled with care, as a small mistake can have catastrophic results.
We now use it primarily to eliminate parts of a website from search engine indexing and crawling.
In robots.txt, you should now be careful not to block any javascript or CSS files used by your WordPress themes, since Google now fetches these files and uses them to render your page.
Social Media Role
Social media and search engine optimization are highly debatable topics by SEO experts.
Some believe social media does play an important role in search result ranking, while others believe that good content will always perform better in search engines and that social media users will like and share it if it's good.
Social media can be used to drive traffic to your WordPress blog, as well as to build a fan base and interact with your readers.
Internal Linking Posts
Internal linking is a good habit that will improve SEO efforts, and it will also help your visitors find relevant content on your blog.
You should, however, be careful with internal links. Links from a single page should not lead to irrelevant pages, nor should there be too many internal links.
Disable Author Archives
You should disable the author archives if you are the only author on your blog.
This will be the same as your blog, but if you have multiple authors, you may want to not index them, as they do not add any specific value to the search engine results.
Search engines should be given some quality content to index rather than too much useless content that is of no use to users.
URL
Every post on your blog has a URL. A URL is an address by which a web page can be accessed.
You should be careful with your URLs since they play some part in SEO.
Here are some of the best practices for URLs:
They should be in a readable form like if you are writing on the history of Africa the URL should be like "history-of-australia" not like "historyofaustralia" or "21history".
The words in the URL should be separated by hyphens or underscores, avoid spaces.
You can use your keywords in the URL but avoid keyword stuffing.
URL should not be too long, this is not for search engines as they can read long URLs, URLs should be short for a better user experience.
Broken Links
If you have too many broken links in your posts, it will have a long-term impact on SEO in the short term, but broken links will also impact the user experience in the long term.
As a result, you should take care of them. There are several free plugins available in the WordPress plugin repository to fix this issue.
Check out: 14 Effective Tips To Improve WordPress Speed
Search Engine Optimization of WordPress Content
In this section, we will talk about the optimization of single pages on your WordPress blog, which means we will talk about the SEO of your posts and pages.
These will be the pages that will bring you the most traffic.
Optimizing Titles
The title is one of the most important factors for ranking a page in the search engine and the reason a user will click on your link.
Therefore, the titles should not be only optimized for search engines but should also be optimized for users.
These are some suggestions for optimizing the titles for search engines:
The title should not be more than 70 characters otherwise search engines will not show the whole title in search results.
Use important keywords in titles but avoid keyword stuffing.
Create a compelling title that forces the user to click on your link.
Meta Description of Content
The importance of meta description in SEO is highly debatable but almost everyone agrees that it plays some role.
A meta description is a short description of your content that gives an idea about your content to the search engines, not only this but the meta description is also shown to the users in search results. Therefore, you should be careful with it.
You can add meta descriptions using an SEO plugin. These are the things that you should take care of while creating a meta description.
The meta description should not be longer than 160 characters.
The meta description should have the keywords you are targeting but avoid keyword stuffing.
You should not fill the meta description with keywords, it should be meaningful.
The meta description is visible to users in the search results and is a reason the users click on your link. Therefore, create the meta description while keeping this in your mind.
Optimizing Images for SEO
Images can drive huge traffic to your blog if optimized properly for search engines, there are queries for which search engines show images in the result at the top of search results and also there are users who specifically search for images.
This can drive a lot of traffic to your WordPress blog if the images are optimized properly for search engines.
The most important factors for optimizing the images for search engines are:
Add alt tags to images, alt tags tells the search engines what the image is about.
Choose the image title carefully.
Add a description to the images.
Use captions for the images.
Check Out: Best Image Optimization Plugins
Writing Style of Content
Writing style doesn't have any direct impact on SEO, however, in terms of User experience, it does.
Try to present your content in such a way to the user that can be understood by the readers easily. For ex:
Use headings, but remember do not use h1 headings in your post. A page should not have multiple h1 tags.
Use bullets, or lists to present data in the form of lists.
Bold or underline the content that you want to highlight.
Proper alignments
Length of Posts and Pages
It's highly debatable whether the length of content has any direct impact on search engine rankings, but the content should not be too short.
Try to have at least 250 words on every page that you want to be indexed by search engines.
Keep Adding New Content
Adding new content to your blog is like injecting it with a fresh burst of energy.
When you share original ideas, stories, or information, it keeps your blog interesting and useful. People enjoy reading new and innovative content, and search engines do too.
They pay attention to our blog updates and show them to a larger audience. This helps increase the popularity of our blog and shows that we care about our readers.
So, keep including new content to make sure your blog stays alive and grows your online connections!
Conclusion
The aim of this WordPress SEO guide is not to make you an SEO expert. But to give you an understanding of Search engine optimization and understand how can you optimize your WordPress blog for search engines.
We have tried to cover most of the important aspects of on-page SEO optimization but not all, as there are more than 200 factors responsible for the ranking of a page in search engines including on-page and off-page factors, however not all the factors have the same importance.
Some of the factors are important whereas others play little role.