Are you looking for tips to improve WordPress speed?
Then you are in the right place.
Check out the post and learn about the 13 effective tips to improve WordPress Speed.
13 Effective Tips To Improve WordPress Speed
In terms of SEO and the user experience, WordPress blogs that load quickly are the most desirable.
It is a fact that users will leave your site if it takes a long time to load. It should load in 2 seconds or the user will close the page. Therefore, it's crucial that you optimize Performance.
WordPress has a large number of users, theme and plugin developers, and hosting providers. WordPress blogs still have a problem with speed. All of these factors have an impact on the load time of WordPress based websites.
With some simple and easy techniques, we were able to decrease the load time of a WordPress website from 2.07s to 1.03s recently. Within 40 minutes, we were able to speed up the WordPress website significantly.
As part of the WordPress Speed Optimization process, we were able to decrease the load time, page size, and number of requests, in addition to other things that optimized the performance of WordPress blogs.
You will learn the most effective and tested tips for optimizing WordPress speed in this tutorial. I have personally tested these ways to optimize a WordPress blog for speed, and these simple tips will have a tremendous impact on the load time of WordPress blogs and will assist you with the optimization of your WordPress blog.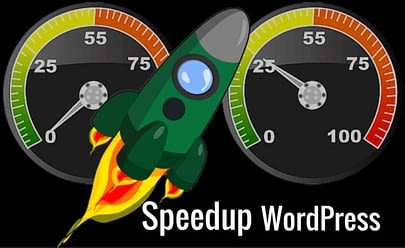 You do not need any technical knowledge to implement these tips in order to speedup your WordPress website. You should have only basic knowledge of using WordPress. We will go through all the steps one by one.
I am sure these tips will speed up your WordPress website.
Enable GZIP Compression
GZIP is a generic compressor that is used to compress mostly text-based data while sending from the server to client.
With the help of GZIP, servers can compress text-based files like CSS, javascript etc by almost 50% to 70%. Which improves the speed of WordPress websites significantly.
Leverage browser caching
Every WordPress website does have some CSS, Javascript and some other static files like images etc. Whenever a user visits your blog, all these files are accessed by the user which means that these files are downloaded by the users browser.
In most of the cases these files do not change frequently, therefore by caching these files in users browser, we can improve the user experience. Even if the user visits multiple pages on your WordPress website in the same session there will be no need to download these resources again and again.
This is really helpful in optimizing the overall user experience.
Minify javascript and CSS
WordPress websites do have at least one CSS file and few javascript files.
By minifying Javascript and CSS we simply refer to decreasing the size of these files, there are numerous ways to reduce the size of these files. However, I'll not recommend editing anything in these files until you know what are you doing.
You can use a caching plugin like W3 total cache to minify these files.
By minifying these files, you will be able to reduce the size of your WordPress website which will ultimately improve the speed of your website.
Eliminating render blocking javascript and CSS
We have a detailed WordPress tutorial related to eliminating render blocking javascript and CSS.
Minimize the number of HTTP requests
Number of http requests does have a huge impact on the load time of your WordPress website, by reducing the number of http requests you can improve the speed of your WordPress website.
Browsers have a specific limited number of http requests they can handle simultaneously to a domain.
For example, like there are 10 images,1 CSS, and 2 Javascript files to be downloaded, total 13 files have to be downloaded and the browser can handle only 6 http requests at a time, that means the browser will first download 6 files after that another 6 files and after that the remaining 1 file which will obviously take time. Therefore, by reducing the number of these files, we can speed up our website.
Factors responsible for number of http requests:
Number of CSS files (Themes and plugins both can have CSS files)
Number of Javascript files (themes and plugins can have javascript files)
Number of Images (Most of the images are used by your posts)
How can you reduce the number of http requests:
See, if you can combine the CSS files. You can try plugins or use a caching plugin.
You can try combining the Javascript files.
You can try merging two images into one, as each image makes one http request.
You can use the plugin WP Asset Clean up, it gives you more control on javascript and CSS files.
Use a caching plugin
A caching plugin can help you a lot in reducing the response time of your website.
In order to check what difference does a cache plugin can make in a WordPress website, we tested a WordPress based website with and without a plugin. The result is shown below as you can see there isn't much difference in size or request but the load time has decreased significantly improving the speed of WordPress blog.
In this case, the load time has decreased mainly due to caching of pages, the cache plugin creates a cache of pages, and when a user requests for the pages, they get served from this cache. We have used the WP Rocket plugin for this test.
Remove Unnecessary plugins
Plugins can make your WordPress website load slowly and plugins play an important role in deciding the speed of your website. Therefore, it is recommended that you remove any unnecessary plugin. You can also see if you can get the required functionality of the plugin in the theme itself.
Check load time of plugins
You can check the load time of plugins using the plugin P3 (Plugin Performance Profiler) which is available for free in the WordPress repository.
If a plugin is taking too much time to load, you can consider removing the plugin or changing the plugin with a better one.
You should also see how many Images, CSS and javascript files the plugin is using and loading when a user access your website and decide according to that. If you should use the plugin or not.
Check Your theme
Another important tip to improve WordPress Speed is use of right theme.
The theme defines the whole structure and everything about your blog, it tells how the code will be executed and how and what will be loaded. The code itself takes time in getting executed and lots of other things.
Therefore, it's important that you choose a properly written WordPress theme.
Optimize your WordPress database
WordPress database is the place where your blog data is kept and stored, there are various things that can make the WordPress database big and bigger like revision posts and spam comment.
The size of WordPress database will not have huge impact on the load time of site but it may have if the database is too large. However, you can optimize the database using plugins.
Decrease number of fonts you use
If you are using fancy fonts or too many different types of font on your pages, you should remember that this will have a huge impact on your website loading time.
You should use only one type of font in your whole blog.
If you use google fonts, you can see the impact of fonts on the loading time at the google fonts website (An example image is shown below). Choose a font which has minimum impact on the load time of your website.
Optimize Images
Optimizing images is one of the important tips to improve WordPress speed.
Images comprise more than 50% of the size of any website. They are an essential part of any website but at the same time, they are responsible for the large size of the website. Therefore, it's important that the images you are using on your blog are optimized properly.
Compress Images: Compress the images you are using on your WordPress blog, you can automate this whole process using WordPress plugins.
Scale Images Properly: You have to display an image of size 500*400 but you are loading an image of size 1240*820 and then displaying it in the size of 500*400. Obviously, this is wastage of resources, you could have loaded the image in the required form which would result in decreased image size and will ultimately improve the load time of website.
Therefore, scale your images properly, you can define the size of images you want to use from settings > media.
Choose a good host
Obviously, the hosting provider plays an important role in the load time of your website.
Therefore, it's necessary that you go for a good hosting provider.
Final Words
That's all about the tips to improve WordPress Speed.
I hope you find it useful. If so, please share it with your friends.