In today's world, the rapid changes and increasing expenses make it imperative that everyone diversifies their income. A common question in various online communities is "How to start a blog?"
Here are the steps to start a blog. I will show you how to set one up and how it can grow in the future. So stay tuned.
How to Start a Blog and Make Money?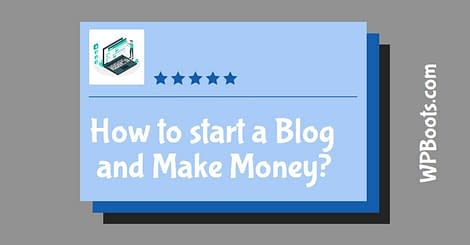 Once you decide to start a blog, you need to follow eleven main steps. If you follow the guide well, your blog will be up and running in 30 minutes or less.
Choose a Niche
Choose the Best Domain Name
Register your Domain Name
Buy a Web Hosting for your Blog
Change the Nameserver
Install WordPress on your Blog
Install Necessary Plugins
Install a Theme on your Blog
Add Important Pages
Start Adding Content
Monetize your Blog
Choose a Niche
Your blog should be focused on a subject you enjoy, know a lot about, and are passionate about.
In case you have an interest in gadgets and mobile phones that you know well, you may want to start your blog about those things.
The purpose of a blog is to provide answers to readers' questions; if you lack expertise, then your blog won't be successful.
Your authority can be built online by focusing on an area you love and one you can make money from. Don't copy what others are doing.
Many newbies only choose a niche for its monetary potential. Most never get anything out of it. Be very careful when choosing a niche.
Choose the Best Domain Name
Next, you must choose a domain name for your blog. This is a very crucial step in creating your blog, as it will help people identify it.
With namemesh.com, you can find the perfect keywords for your blog. Just enter the keyword and it'll show you related domain names.
Register your Domain Name
Namecheap allows you to register your domain name if you already have one.
What made me choose Namecheap?
They provide great support, affordable pricing, and free whois protection for your blog.
You can register a .com extension for your blog at Namecheap by entering your domain name in their search bar.
After you make a payment, your domain will be activated shortly thereafter. You have now successfully registered a domain.
Buy a Web Hosting for your Blog
You need a hosting platform to host your blog and all its content.
You must choose a reliable web hosting company among the many available.
The cost of cheap web hosting is often tempting to bloggers who are just getting started, but these providers have poor server performance, frequent outages, and other problems.
I am happy to recommend GreenGeeks to all who are looking for a good web host. Their servers aren't overcrowded, and you'll have plenty of resources to grow your blog quickly.
Fastest server response time
Unlimited Disk Space and Bandwidth
Free SSL certificates
100% network uptime
Excellent customer support services
Fill out the customer information and select a plan.
After the payment has been completed, you will receive an email with login information and information about your hosting account.
Change the NameServer
You need to change the nameservers for your domain name when you purchase hosting from a registrar.
If you want to do this, visit the domain registrar's website, then click on the "Manage" button underneath your domain name.
Nameserver information can be found in the email you receive from your host. You can also ask the host to send you the information.
Install WordPress on your Blog
The next step is to install WordPress on your blog. While you can install WordPress manually, Softaculous can assist you.
In your cPanel account, you will find the option to install WordPress.
You only have to enter some basic details and click Finish to complete the installation.
WordPress is installed for you in a matter of seconds, and you are now ready to start blogging.
Install a Theme on your Blog
I do not recommend using free themes from WordPress theme directories because they do not have regular updates.
Purchasing premium themes is always a wise choice because they have SEO-Optimized codes, premium support, and regular updates.
I use GeneratePress and Astra Themes on all my websites. You can check them out.
Install Necessary Plugins
Your blog will need a few plugins to perform at its best when it is ready.
Yoast SEO
Using this plugin, you can optimize your blog's SEO, create an XML-Sitemap, and adjust your blog's metadata and taxonomy tags.
WP Fastest Cache
The plugin optimizes files, CSS, and JavaScript so your blog loads faster in web browsers.
WPSmush
It helps you optimize your images by automatically resizing and optimizing them when you upload a new image to your blog.
Easily create contact forms, feedback forms, subscription forms, and payment forms on your website in minutes.
Check Out: Best Image Optimization Plugins
iThemes Security
Security is crucial even on a platform like WordPress. The Security Plugin helps you keep your blog safe from different security threats. Additionally, it prevents bot traffic from coming to your blog.
Add Important Pages
You need the following pages on your blog:
About us Page
Privacy Policy
Disclaimer
Contact Us
These pages provide readers with more information about you and your blog.
Start Adding Content
Your blog must contain quality and relevant content if you want to connect with your readers.
Quality content attracts traffic and eventually, you will make money from it. People will flock to your blog if it is filled with valuable information.
Monetize your Blog
After you complete the above steps, sign up for Google AdSense to monetize your blog. You will be paid when people click on your ads.
Additionally, you can make money from your blog with affiliate marketing, sponsored content, advertising, etc.
Over to you
That's all about how to start a blog in WordPress quickly. Follow these simple steps and you will be ready to go.
Blog platforms that provide free services are useless; a blog is an investment. If you invest in your blog, expect it to become profitable. Share the post with your family and friends.