Are you searching for AppSumo Black Friday Deals?
Then you are in the right place.
Check out this post and learn about the deals offered by AppSumo this Black Friday and Cyber Monday season.
AppSumo Black Friday Deals 2023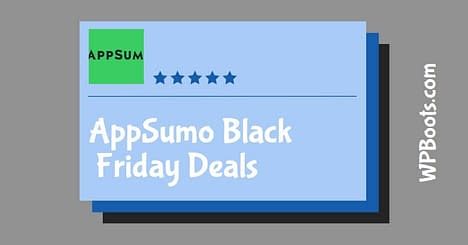 About AppSumo
AppSumo is a digital marketplace that provides offers on a variety of digital items, such as programs, tutorials, and services.
Noah Kagan established the organization in 2011, and it has subsequently grown in popularity among entrepreneurs, startups, and small business owners who want inexpensive solutions to their business requirements.
AppSumo collaborates with software designers, tutorial makers, and service providers to give exclusive bargains to its users.
These bargains frequently include lifelong access to software products, tutorials, or services at a fraction of their regular cost.
AppSumo's offers are time limited and are only available for a restricted number of purchases, causing them to be very desirable.
When Does AppSumo Black Friday Sales Start?
AppSumo Black Friday begins on November 20, 2023, and ends on November 30, 2023.
You can grab the best deals on all these days.
Top 11 AppSumo Black Friday Deals 2023
Let us see the top trending products in Appsumo this Black Friday.
Ranktracker
There's a reason Ranktracker is #1 on the AppSumo Black Friday Best Deals list. It helps you automatically track your keywords daily
Get Lifetime access to the Ranktracker Premium plan only for $49.
Ranktracker Features
All future Premium Plan updates
Unlimited users
Unlimited domains
Actionable SEO tasks
PPC savings
Daily position update frequency
Unlimited scheduled reports
Keyword difficulty
Keyword discovery
Nichesss
Finding a profitable niche is always difficult. Nichesss makes it easy to find profitable niches and use them to create your blog posts, social media posts, ad copy, and more.
Get Nichess lifetime offer for just $59
Nichesss Features
Lifetime access to Nichesss
All future plan updates
AI Idea Generator
Come up with email subject lines
Give you YouTube video ideas for any niche
Create Instagram posts and Twitter tweets
Tell you what to say in the youtube video
AI Marketing Copy Generator
SendFox
SendFox allows you to create and send unlimited custom emails designed specifically for content creators.
SendFox lifetime offer can be purchased for just $49.
SendFox Features
Lifetime access to SendFox
Custom forms (including GDPR)
Unlimited email sends
WYSIWYG email editor to make writing emails easy
Lists and tagging to keep your contacts separate
CRM functionality to write notes on each subscriber
Advanced analytics to track opens, clicks, and more
Integrations: Sumo.com, KingSumo, Zapier, API, and POST HTML code
Manage unlimited brands from one account
RSS feed auto-pull — create email drafts automatically from an RSS feed
Depositphotos
Depositphotos is a library of over 195 million high-quality, royalty-free stock photos and vectors.
It also consists of the best photos and vectors from experts around the world, so you can easily enhance your e-book, blog, website, email, or social media.
Depositphotos Features
195 million+ images to choose from
All images are royalty-free
Images may be used for commercial purposes, both online and print
Images can be downloaded at any time
Up to 300 photo/vector downloads from Depositphotos (lifetime)
Creaitor.ai
It's tough to create content that strikes the right chord with your audience when you're constantly battling writer's block. ("Turns out my nemesis is a blank Word doc.")
And because you're spending so much time planning, researching, and writing, you're missing important deadlines and losing out on awesome marketing opportunities.
Imagine if there was an AI assistant that could brainstorm and generate high-quality content, so you could churn out engaging copy on autopilot.
Make way for Creaitor.ai.
Creaitor Features
60+ AI assistants
Unlimited projects
Unlimited output storage
Unlimited translations
Open AI form
Translation form
Multilingual
Writecream
Writecream automates marketing and sales. You can also use Writecream to quickly create blog posts, ad copy for Facebook and Google, landing page content, product descriptions, and even angel pitch emails.
Reach effectively with over 30 marketing tools.
Writecream's Lifetime Offer is available for just $59.
Writecream Features from Appsumo Black Friday Offer:
Lifetime access to Writecream
All future plan updates
Access to 40+ tools and all upcoming features
Personalized LinkedIn Outreach
Generate personalized cold emails
Import and export CSV
Personalized Backlink Outreach
Google & Facebook Ads
Blog Articles
Social Media & YouTube Ideas
Support for 75+ languages
Landing Page: Headline, Description, Bullet Points
FlexClip
FlexClip creates videos, movies, and slideshows in minutes with the FlexClip web tool.
FlexClip's flexible set of editing tools lets you control everything from video displays to background music
FlexClip lifetime offer is available for just $49.
FlexClip Features
Video editor; Movie maker; slideshow maker; screen recorder
Custom watermark
No FlexClip intro
Unlimited video downloads
All stickers and overlays
Copyright-free music
3000+ professionally-designed templates
Rich animated elements
Millions of royalty-free media resources
All transitions
Advanced editing
Make videos in 8 languages
1 stock video per project
1 stock audio per project
Upload custom fonts
50GB video hosting space
25 background removal credits
Save up to 10 templates
Save unlimited projects under your account
Video length up to 3 minutes
720p HD downloads
10 GB Cloud Space
Brilliant Directories
If you want to create and manage your membership website, Brilliant Directory is for you. It is one of the cheapest directory software for creating and managing membership sites, selling members, subscriptions, and more.
Features
Create your membership site
Monetize your membership site easily
Sell any digital product including subscription plans, event tickets, and more
TidyCal
The AppSumo team offers TidyCal, an online calendar management solution that helps you get more bookings and better manage your calendar
Get a lifetime TidyCal offer for just $29.
TidyCal Features
Lifetime access to TidyCal
All future plan updates
GDPR compliant
Free & paid meetings
10 calendar connections
WordHero – AI Content Writer
WordHero is an AI writing tool that allows you to write sentences quickly and easily.
Create quality blog posts, emails, ads, social media captions, product/SEO descriptions, marketing concepts, and sales copy. Also poetry and music lyrics.
WordHero offers a complete set of over 70 writing tools. Receive great software at great prices on Black Friday with AppSumo. Creating informational content or running content marketing campaigns and tools can help you with that.
WordHero Features
Generate 20,000+ words/month forever
Access to all 50+ writing tools (and counting)
Access to all future writing tools/templates
Discover topic ideas & write engaging blog content
Write sales & marketing emails that sell
Generate catchy captions for social media
Write memorable product titles & descriptions
Brainstorm viral marketing & startup ideas
Generate AI content in 100+ language
NeuronWriter
NeuronWriter is an AL-powered SEO optimizer that analyzes SERPs to aid in content research and planning.
NeuronWriter lets you extract content from your top articles. Get recommendations on how to write copy or have an AI write it for you.
NeuronWriter Features
AI content writing
Internal linking
Competitor SERP analysis
NLP content optimization
Content planning
Conclusion
That's all about the Appsumo Black Friday Deals.
Don't miss this unique opportunity and get great deals available on the AppSumo website. All you need is to filter and choose your required products.
Check out the other Black Friday Deals:
AppSumo Black Friday Deals: Grab the Best Deals!
Summary
AppSumo is a platform for selling and buying software and tools. It has millions of active users who buy software for their businesses. Grab the best deals this Black Friday from AppSumo!