Are you searching for Best Thrive Themes Alternatives?
Then you are in the right place.
Check out this post for the Thrive Themes Alternatives to create beautiful websites quickly and easily.
Thrive Themes is well-known for developing premium WordPress themes that are especially suitable for use on any type of website. Themes from Thrive Themes can be used on portfolio or blog websites.
You can choose from themes such as Focus Blog, Rise, Passive, and many others from Thrive Themes. With the popularity of Visual Page Builder themes, Thrive Themes found it difficult to maintain its previous popularity.
Here you will find the best free alternatives to thrive themes. They are similar to what you might be looking for. Some of these alternatives are free and others are paid.
7 Best Thrive Themes Alternatives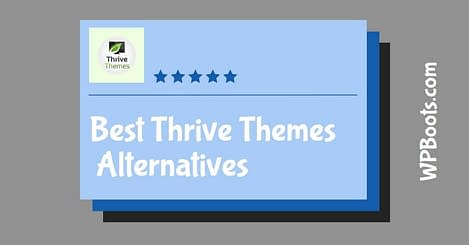 Let us see the list of the best thrive themes alternatives.
Elegant Themes
The best alternative to Thrive Themes is Elegant Themes. Both offer similar types of themes and plugins. Check out these similarities.
Both Thrive Themes and Divi (by Elegant Themes) have a theme builder. Both Thrive Architect and Divi Builder are regarded as top-page builders. Bloom (by Elegant Themes) and Thrive Leads (by Elegant Themes) are the two best plugins for list building.
In addition to Thrive Quiz Builder and Thrive Ultimatum, Thrive Ovation, Clever Widgets, Headline Optimizer, Thrive Apprentice, and Thrive Comments, Thrive Themes offers a number of other plugins.
Alternatively, Elegant Themes offers some fantastic WordPress themes with the Monarch Social Sharing Plugin.
Elegant Themes has lower pricing than Thrive Themes. With Elegant Themes, you can get lifetime access for just $249. Thrive Membership costs $228 a year, but the Divi theme is the best part of Elegant Themes.
It has a visual builder that works perfectly. Your theme can be customized in many different ways by using this builder.
Best Features of Elegant Themes
The Divi theme comes with the following features:
Real-time Design
Responsive Editing
Global Elements
46 Content Elements
20+ Pre-designed Layouts
Drag & Drop Editing
Save Your Own Layouts
Easy To Use Theme Options Panel
Smart Split Testing
Translation Ready
GeneratePress
GeneratePress is another best Thrive Themes alternatives.
It is the lightest theme for WordPress, and it's not even an overstatement. This theme is only 30KB in size, which makes your website incredibly fast.
Even though GeneratePress is a very lightweight theme, it offers a lot of customizable features to help you make the theme your own.
You can customize the theme's colors and typography to match your brand.
The layout can easily be controlled on your website. The theme lets you customize options such as sidebars, padding, and margins.
The theme has over 1 million downloads due to its page builder compatibility. What that means is:
Page builders are not supported by a lot of themes, and those that do can be extremely slow.
Any page builder can be used with GeneratePress without losing performance.
Best Features of GeneratePress
The following is an overview of the features available in this theme:
Secure & Stable
Lightweight
Search Engine Optimized
Colors & Typography Options
Layout Control
Page Builder Friendly
Plugin Compatible
RTL Support
Translation Ready
The GeneratePress theme is undoubtedly great.
What makes it stand out, however, is this: It's free!
Although there is a premium version of the theme with some additional options, there is absolutely no harm in trying the free version.
Astra
Simple and easy to use, the Astra theme is a favorite of many WordPress users. It is free and very fast. It is only 50KB in size.
With this theme, you can use any page builder without encountering any issues, just like GeneratePress.
The theme comes with ready-to-import websites, meaning you don't have to spend much time setting up your theme.
Best Features of Astra
The following features are included in this theme:
Layout Settings
Advanced Header Options
Color Options
Typography Settings
Translation Ready
RTL Support
SEO Friendly Markup
Hooks & Filters
This theme is available in a premium version for $59 that includes advanced options.
Check Out: Best Page Builders for WordPress
Themify
Themify comes next on our list of Thrive Themes alternatives.
Themify's Ultra theme aims to give you full control over your website's design.
You can import and set up the theme's pre-made websites and skins quickly.
Furthermore, 12 builder plugins are included in the theme. Progress bars, countdowns, counters, timelines, pricing tables, sliders, and more are all available as add-ons.
Using the Ultra theme, you can choose any type of layout for different sections of your website. This theme offers 17 header styles, 5 single post layouts, 6 header background options, preset colors, and more.
Best Features of Themify
The Ultra theme includes the following features:
60+ Pre-designed Layouts
Animating Colors
Preset Typography
Section Scrolling
Mega Menu
6 Archive Layouts
Image Filters
Portfolio
WooCommerce Shop
Drag & Drop Builder
Styling Panel
Widgets
Shortcodes
Google Fonts
This theme costs $49 and comes with 12 builder add-ons.
MyThemeShop
The MyThemeShop team continues to create awesome WordPress themes for all kinds of websites. Since each of their themes serves a different purpose, let's take a look at all of them in general.
There are 121 themes in the MyThemeShop marketplace. Nineteen of the 121 themes are free and are really great.
Themes are available for a variety of purposes, such as blogs, businesses, eCommerce, magazines, etc.
MyThemeShop's most popular theme is Schema, which has a simple design and is very lightweight.
With all MyThemeShop themes, you have access to an options panel with all the settings right there.
Best Features
All themes utilize industry-leading options panel
Ultra-responsive designs
Narrated videos tutorials
Shortcodes included with all themes
Unlimited color options
Unlimited background options
All themes Have in-built ad management
600+ Google fonts
Compatible with all browsers
Built-in social sharing buttons
Mobile-friendly themes
Latest HTML5 and CSS3 markup
24×7 premium support
Clean and clearly commented code
MyThemeShop offers themes for $39. They have a wide selection of themes, so you're sure to find one that's perfect for your website.
Kadence Theme
Kadence Theme is a lightweight theme that allows you to create beautiful and effective websites with advanced features.
You can also save time by using starter templates and creating a new page with an area ready to drop in from the gallery.
It has both free and premium versions. The free version limits the functionality of kadence, while the two paid versions give access to advanced features.
Kadence theme is one of the best alternatives to Astra. It helps improve website speed and also offers the best features like customization and more designs.
Best Features
Header and footer Builder
Easy Customization
Woo-Commerce Builder
Page Builder
Starter templates
Integration with plugins
Unlimited sites
SEO Optimization
Scroll to the top
One year of support and updates
30-day money-back guarantee
OceanWP
OceanWP comes next on our list of best Thrive Themes alternatives.
The OceanWP theme is almost identical to Kadence, GeneratePress, and Astra making it very easy to create beautiful and unique websites on your WordPress CMS.
With over 5,550,000 downloads and over 220 demo sites, OceanWP is one of the fastest-growing themes for 2023-2024.
Plus, it has market-leading WooCommerce integration. This means that you don't have to use dozens of plugins to create an online e-commerce store or shopping site.
Best Features
Free and premium versions are available
20+ Free + premium extensions
220 free & paid demo sites library
Compatible with all popular page builder plugins
100% no-risk money-back guarantee
Final Words
That's all about the best thrive themes alternatives.
There are several alternatives to Thrive Themes that offer similar features such as page builders, landing page templates, and customization options.
While each of these alternatives offers unique features and benefits, it ultimately comes down to personal preference and the specific needs of your website. It's important to thoroughly research and compare the different options before making a decision.
Consider factors such as ease of use, design options, pricing, and customer support when making your choice. Regardless of which alternative you choose, it's crucial to have a user-friendly and visually appealing website for your business.