Are you searching for the best WordPress security plugins to prevent online threats?
A security vulnerability can affect your website's authority in the eyes of Google and your readers. With a good plugin, your WordPress website will be protected from brute force attacks, malware, and spammers.
This post will show you some of the best Security Plugins for WordPress to keep your site safe.
Why do you need a WordPress Security Plugin?
Any online business needs to be secure. It does not matter if you have a big company or a small business website. Everyone is targeted by hackers.
Every week, over 18 million websites are infected with malware.
WordPress is secure at its core, but plugins and themes can bring vulnerabilities to your website.
If an attack on your website is successful, they can:
Hurts your business seriously
Destroy the reputation of your brand
Your search engine ranking will be affected.
Some or all of these features are included in a security plugin:
Ensure your website is guarded against brute force attacks, where hackers attempt to guess your login credentials
Secure website files
Filter spam from contact form plugins
Notify you of security threats.
8 Best Security Plugins for WordPress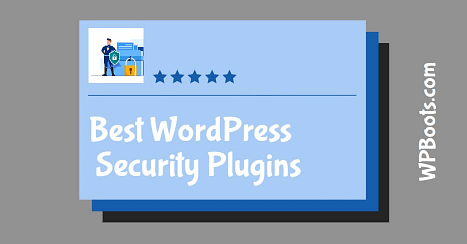 Sucuri
Sucuri is the most popular free WordPress security plugin in today's market. This security platform is extremely popular for a good reason.
The free version of Sucuri is pretty good; however, the paid version is a must-have for any website owner.
Best Features of Sucuri
If your WordPress site gets hacked, they'll clean it up for free
Setup is easy in your WordPress dashboard
You can block brute force and malware attacks on your WordPress site with firewall protection
Detects and removes malware (of course)
Hardening security effectively
Tracks everything that happens on your site, including file changes, last logins, and failed login attempts
Advanced DDoS protection
Can improve your site's performance by reducing server load times and blocking malicious traffic
Owns a CDN for static content
Protects your WordPress site from SQL Injections, XSS, and all known attacks
Average Rating: 4.4 out of 5 stars from 354 reviews.
Cost: Sucuri is available for free, while the Pro version is $299/year.
iThemes Security
Users of WordPress might be familiar with the team behind iThemes Security Pro since they created the BackupBuddy plugin and other great themes and plugins. Their tools offer an easy-to-use interface for brute force security protection and more.
Best Features of iThemes Security
Two-factor authentication for an extra layer of security
Powerful password enforcement
404 detection and plugin scans
Scheduled WordPress backups
Secures any suspicious IP that scans for vulnerabilities on your site so they cannot access it
Notifies you of recent changes to your site that may be malicious via email
Ability to limit login attempts
Protects WordPress plugins and themes
Despite the lack of a website firewall or malware scanner, they do use Sucuri's Site check malware scanner
Average Rating: 4.6 out of 5 stars from 3,875 reviews.
Cost: iTheme Security is available as a free plugin in the WordPress repository. Its Pro plans start at $80/year.
Check out: Best WordPress Themes for Bloggers
WordFence
With Wordfence, you can protect your WordPress website from hackers by implementing many useful security features.
This freemium product follows the same model as iThemes Security. The free version offers basic protection for small sites, but security patches are not rolled out as quickly as for paid subscribers.
Although Wordfence has an intuitive dashboard, you might find some other plugins a little easier to use if you are a beginner.
Best Features of WordFence
The Pro version includes some additional security features, such as:
Realtime firewall protection
WordPress malware scanner
Limiting login attempts to protect against brute force attacks
Country blocking
Monitoring for malicious code in files
Two-factor authentication and strong password enforcement provide login protection.
As opposed to a cloud-based firewall like Sucuri, this plugin runs its firewall on your server. If you compare them side by side, that's one difference to keep in mind.
Wordfence's email alerts will instantly notify you if anyone attempts to breach your security, and it also sends weekly updates.
WordPress emails must work correctly for you to view important notices, so make sure Wordfence is sending emails.
Average Rating: 4.7 out of 5 stars from 3,741 reviews.
Cost: Free or $99/ year for one site.
Jetpack Security
Jetpack is another all-in-one solution on our list of the best WordPress security plugins. Over 5 million people have installed and used this plugin to scan their websites for security vulnerabilities.
Best Features of JetPack
The Pro plan includes:
A real-time backup that saves every change you make to your website
Restore your site with one click and avoid downtime
Activity log
Automated malware scanning to detect threats in advance
Spam protection for contact forms and comments on your website
Brute force protection for hack attempts
Email alerts if your site goes down.
Apart from security features, the plugin offers analytics, a contact form, and a CDN.
Average Rating: 3.9 out of 5 stars from 1654 reviews.
Cost: Free. Paid plan (which contains most security features) costs $24.95/month.
Check Out: Best WordPress Cache Plugins
BulletProof Security
Another popular plugin for WordPress security is BulletProof Security. Though it doesn't have the most user-friendly interface, it does its job well.
Best Features of BulletProof Security
Among the features of BulletProof Security are:
One-click Setup Wizard
MScan Malware Scanner
Login security and monitoring
Database backup and easy restore
Security and HTTP error logging
Email notifications
Average Rating: 4.8 Out of 5 stars from 580 reviews.
Cost: BulletProof Security is available for free, and it also comes with a premium version for $69 that includes lifetime usage and installs. Free websites have enough features to make them suitable for most small businesses.
WPScan
WPScan is another great solution for WordPress website security. Users can keep their websites safe and secure using this user-friendly tool since 2012.
This program catalogs many threats and reports the important ones to you, so you can stay protected.
Best Features of WPScan
Security issues can be pinpointed with this open-source tool by scanning remote WordPress installations
Each day, WordPress security specialists and members of the community update their vulnerability database
Monitoring of malware every day using automated scans
Email notifications
Aids in analyzing a database of known issues, such as plugins, WordPress core, and WordPress themes.
Average Rating: 4.1 Out of 5 stars from 21 reviews.
Cost: The free plan works well with most WordPress websites. A paid plan starts at $5 for a total of 75 API requests.
WP Cerber Security
Similar to Wordfence, WP Cerber Security is a freemium plugin with extensive features.
Best Features of WP Cerber Security
WP Cerber Security allows you to:
Stop unauthorized logins using two-factor authentication
Web Application Firewall to prevent brute force login attempts
Malware scanner
Protect forms and comments from spam
Set up WP Cerber Security email alerts
Average Rating: 4.9 out of 5 stars from 550 reviews.
Cost: Free or starts at $29/ quarter.
All in One WP Security and Firewall
All In One WP Security is another best WordPress security plugins to protect your website from the most dangerous threats.
It allows you to scan websites for security breaches, monitor threats, and use firewalls to prevent attacks.
Best Features of All-in-One WP Security Plugin
Scanning for malicious patterns
IP filtering to block specific people or geographic locations
Login lock after failed login
View the list of banned users and unlock individual users with just a few clicks
A password strength tool that can generate reasonably strong passwords
User account monitoring
Website level firewall (but no DNS level firewall)
You can manually blacklist suspicious IP addresses
Cost: It is available for free to download.
Final Words
That's all about the best WordPress security plugins.
In summary, our list of WordPress security plugins offers a comprehensive solution for improving your website security. Whether you are a novice or an experienced user, these plugins help protect your website from potential security threats.
From firewalls to malware scanning, these plugins offer a variety of features to keep your website and its data safe. Keeping your website secure is important, and choosing the right security plugin is an important step in the right direction.
The plugins on this list are a good starting point for anyone looking to improve the security of their WordPress site.